Tierarztpraxis am Millerntor: We welcome you and your bird!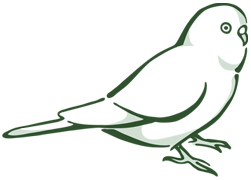 Would you like us to trim your bird's claws or beak or advise you on the nutritional and living requirements of your parakeet or canary? Do you need us to determine the sex, perform a fecal examination, or treat an infectious disease?
Then you have come to the right place! Thanks to our inhalation anesthesia device, we are even able to perform minor surgical procedures.
What should bird owners look out for in their pets?
Due to their high metabolism, birds lose weight very quickly. Therefore, it is important to ensure continuous food intake.
The feces consist of a dark (feces) component and a light-colored (urine) component. Always pay attention to the consistency of both components and inform us of any changes during your visit.
The molt should be completed within a short time.
Our services for birds
Our services for birds essentially comprise the following:
Different birds have very different needs. We will gladly advise you on what is best for your feathered friend.
In general, there are very few vaccines for birds. The vaccines commonly used for chickens and turkeys are of very limited use. Canaries can be vaccinated against canarypox. In general, very few vets keep bird vaccines in stock. For further information, please contact the large bird clinics, such as the bird clinic of the University of Veterinary Medicine in Hannover.
Fecal examinations for parasites
Crop smear
Sex determination through external laboratory
Clinical examinations
Tumor surgeries
Inhalation anesthesia
X-ray
Claw trimming
Beak trimming
Travel regulations for birds
Specific entry requirements are only in place for dogs, cats, and ferrets. Since many bird species are covered by the Endangered Species Act, please inquire exactly which papers your bird needs.
When traveling outside the EU you should please check with the respective consulates.
For more information, please visit the following websites: